Real Time Response

Designing a new application experience for new customers.
PROBLEM
---
Potential customers would have to wait a few days for a response to their application, increasing chances of dropoff and abandonment.

SOLUTION

---
Our team built a way to immediately review applications and cross check with credit bureaus to provide an instant reply. We designed a visual solution for our website that gave people a better understanding of their application process.

IMPACT

---
Dramatic reduction of drop-off to < 2%.

MY ROLE
---
Lead designer, working with one UX writer and animator.
Design Ideation / Process


We started by understanding the restrictions and guardrails we had to work with to know what would be best to propose. After some initial conversations we started sketching out some ideas and decided to leverage motion design skills to try to come up with something that was quite irregular for financial products in Mexico.

We knew we wanted to keep things on brand and use some of the visual elements we had present in our illustration library and give them life with animation but at the same time, making sure it would be a lightweight solution for people with different devices and speeds.




We defined a series of 'motion principles' with our animator to better understand what we wanted to achieve in terms of the visual feedback our customers would receive. We wanted them to feel like their application was in process, and we wanted the animated illustration to give them a sense of finality, nothing else is needed.



Motion guidelines for the progress bar.


Motion guidelines for the visual elements

Progress bar + visual elements.
Approval and denied message, side by side.


Real time response, on desktop.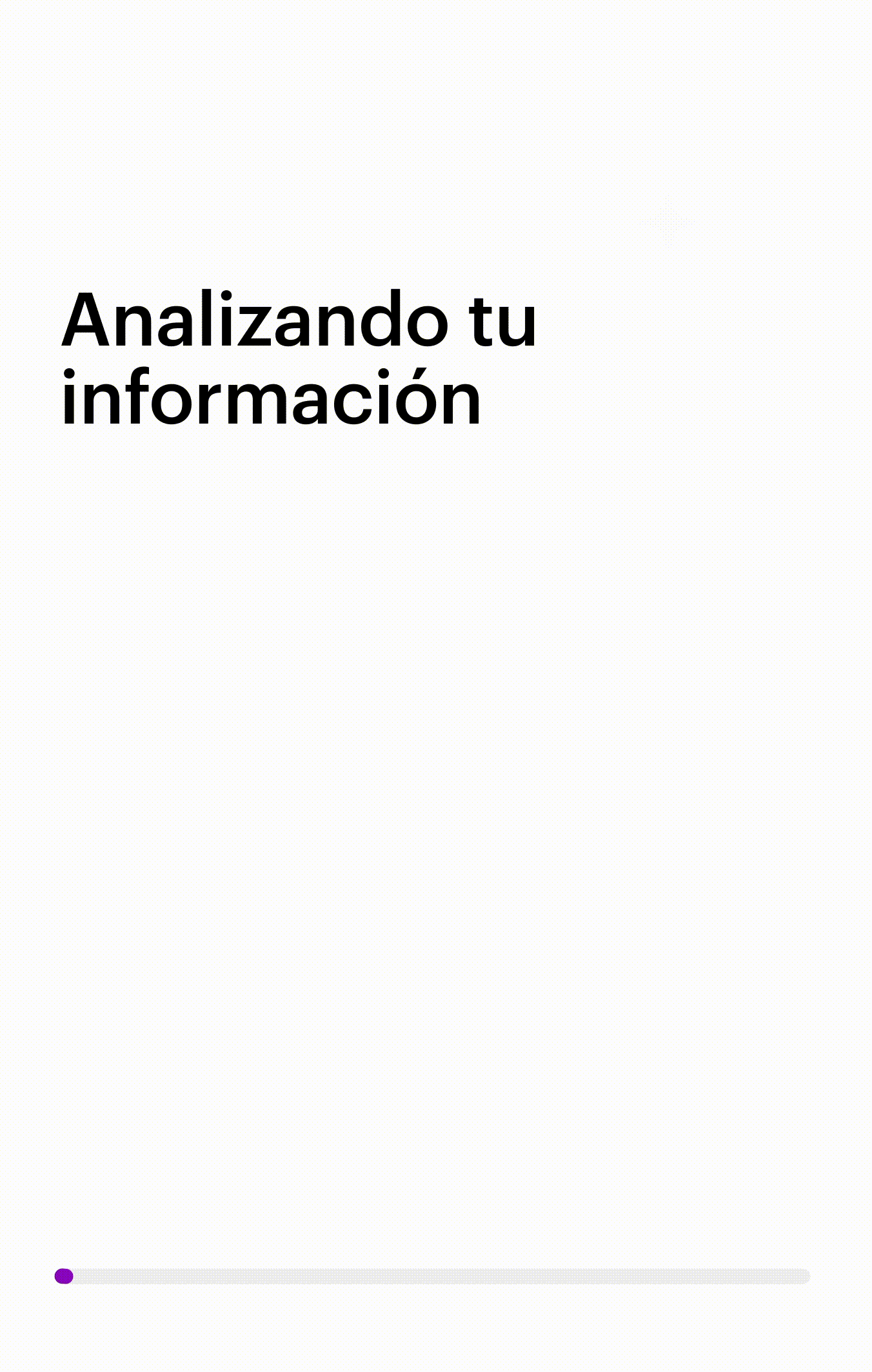 Prototype of the final animation.
Final Design and Impact


We came up with an animation that would be triggered after the application check was succesful. However one thing we quickly realized is that we were generating huge friction caused by our bland messaging when a persons' application was denied. So after delivering the animation portion, we worked with our UX writer to design content that is much more honest with people and provides them with more knowledge about their credit application through email and other channels, instead of flat out saying 'No' at this stage. Essentially, when we deny a person, we would re-evaluate their application every 3 to 6 months, until they've been approved.

After releasing the real time response design, people no longer had to wait 3-5 days to get a reply from us and we saw dropoff reduce to close to < 2% during the first couple of months of release of this design.

BE HONEST WITH CUSTOMERS

We learned to not beat around the bush with customers, sometimes people appreciate straight up honesty.
LEVERAGE THE BRAND

While clean, well-structured interfaces get the job done in most cases, leveraging brand elements and language help people feel a bit more engaged with products.